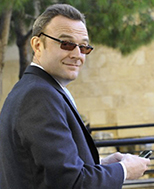 The iPhone 6 is so good; it does not need replacing. 
The summer season of speculation, rumour and leaks of what will and will not be in the iPhone to be launched this September is already in full swing.
With loss of the headphone jack having been already put to bed (see here), attention has turned to the screen but I suspect that Apple is unlikely to be able to do what I think it will take to launch another major replacement cycle.
Top of the list of screen upgrades is a move away from regular LCD to Active Matrix Organic Light Emitting Diode (AMOLED) which would have an impact on the brightness, clarity and contrast of the images shown on the screen.
Unfortunately, even Samsung's best marketing videos on how AMOLED improves the viewing experience fail to make me want to rush out and spend another $700 on a new iPhone.
I think that a large part of the problem is that the iPhone 6 is still almost as good today as it was nearly 2 years ago.
This means that the user needs to see something that either appeals to his fashion consciousness or meaningfully improves his Digital Life and I can't see an upgrade to AMOLED providing either.
Consequently, I think that the upgrade in the brightness and clarity of what is already a perfectly adequate display is not sufficient to encourage users to replace what is already good enough.
However, if Apple were to do away with the side bezels all together and have a wrap-around screen that might just create enough excitement to trigger a cycle.
A wrap-around screen would not necessarily improve the function of the device but it would meaningfully differentiate it from its predecessors making the current generation look old and tired.
As many handset companies have found to their great profit, pointless gimmicks can sell vast volumes of mobile devices and I can't see why Apple would be any different.
Unfortunately, I suspect that this year's model is very unlikely to have this sort physical upgrade leaving the iPhone 7 or iPhone 6s II looking much like those that have gone before it.
As a result, there is very unlikely to be an upgrade cycle of anything like the size of what we saw in 2014 and 2015.
Therefore, I do not see Apple showing a sudden growth spurt which will disappoint those looking for a catalyst for the shares.
Despite this, I think there is value to be had in Apple.
It is a cash machine that is second to none, with an incredible global brand but it trades like a broken steel company.
Hence for those that have faith that Apple's margins are unlikely to be challenged any time soon, this makes a great long term investment.
In the immediate term, I think Baidu, Samsung and Microsoft have more upside in terms of share price.