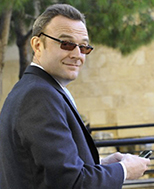 Both MediaTek and Jolla raise eyebrows at MWC 2015.
MediaTek
It seems like MediaTek has been around for ages but it is a very different company now than it was even 12 months ago.
Most people think of it as the cheap and cheerful vendor of vast volumes of low end chips but things have evolved.
12 months ago MediaTek launched its awareness campaign around "Everyday Genius" and since then it has built on that with the launch of "Helio", a brand to compete against Snapdragon.
This message appears to be much more than just fluff as this MWC has seen MediaTek launch products that bring these marketing messages to life.
Furthermore, MediaTek's strong presence in media devices has been put to good use by transferring technology into mobile.
The rapid autofocus, dynamic contrast for display visibility in very bright light, ultra slow-motion are good examples of technology that has come from the media side but translate into features that are differentiating in mobile.
This goes hand in hand with the launch of a range of chipsets that highlight the move into competing on performance not just on price.
The LTE modem is still missing but MediaTek is planning on having Cat 6 LTE sometime in H2 2015E.
These launches fit nicely into the strategy that is laid out but the real proof will come when it is seen how well these devices perform in the wild relative to their headline specifications.
The mobile chipset merchant market is no longer comprised of a technology leader and a cost leader but two companies that are competing hard against each other at most levels of the market.
This makes it increasingly difficult for others to fare well in this market and I suspect that exits and consolidation will continue.
Jolla
The brave sailors of the Sailfish OS received a massive boost with the announcement that Intel will now also support the platform.
This combined with a nice update to the platform has propelled Jolla to be a talking point at the show.
I strongly suspect that a partnership with Intel will bring next to no commercial benefit but it hugely increases Jolla's credibility.
The fact that Intel thinks that Sailfish is worthy of consideration will make it much easier for Jolla to get access to the large Chinese Internet players all of whom are trying to create their own ecosystems.
In this regard Jolla along with Ubuntu, Tizen and Firefox are the main options for anyone looking to create an ecosystem that excludes Google.
This appears to be exactly what the Chinese want and it also makes it possible for any handset vendor who makes GMS compliant devices outside of China to get involved.
Tizen is seen by many to be the child of Samsung and Firefox is very low end, leaving Sailfish and Ubuntu as the strongest contenders to be the basis of a Chinese ecosystem.
Furthermore, Jolla offers good compatibility with Android via its use of Myriad's Alien emulator, and claims to have tweaked this such that the app performance has been vastly improved.
This means that the Android apps should run pretty well on Sailfish and meaningfully reduces the disadvantage that Jolla suffers by having no app store of its own.
With the device business now self-funded through crowd sourcing and $50m in the bank, Jolla has some resources to play with.
Jolla has survived the rough seas of the last 18 months and the future is looking better than it has for quite some time.