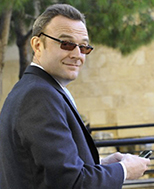 4K is a pointless gimmick but could help to sell some phones.
Sony has updated its Xperia line of devices headlining with the Xperia Z5 Premium, a smartphone with a 5.5inch 4K screen.
The IFA trade show in Berlin has seen Sony release 3 new devices in the Xperia line.

First. The Xperia Z5 is a high end smartphone featuring a 5.2 inch screen and a 23MP camera with rapid autofocus. The power button has been upgraded with a fingerprint sensor and the level of dust and waterproofing from its successor has been maintained.
Second. The Xperia Z5 Compact which uses the same new camera module as the Z5, but in a smaller package and presumably price. This device has a 4.6" display and comes in a wider range of colours.
Third. The Xperia Z5 Premium. This device sports a 5.5inch 4K screen with a resolution of 3840 x 2160 and a chart busting pixel density of 806 pixels per inch. Outside of the screen this device is very similar to the Xperia Z5.

The Z5 Premium is clearly a halo device designed to generate interest and excitement around the Sony Xperia brand while the real volumes are expected to come from the other two devices.
This is because the 4K is screen is, in my opinion, fairly useless for a number of reasons.

First. In order to see the difference between this screen and a 1080p device the user will have to hold the device between 5-8 inches from his eyes.
The viewing distance of most smartphones is around 9-12 inches meaning that in most use cases, users will not be able to tell the difference.
Second. There is no content available for it meaning that everything has to be up-scaled by a graphics processor to display correctly on the screen.
Historically, the Japanese companies have been by far the best at upscaling technologies, but there is still a significant risk that most content and apps will not display optimally.
Third. Even compressed using VP9 or H.265, 4K video takes up far more space than 1080p and requires up to 4x the bandwidth to be transmitted.
Consequently, users will be able to store less content on their devices and incur up to 4 x the cost and 4 x the wait to view content that in most cases will look no better than 1080p.

However, despite the practical limitations of a 4K smartphone, it is well known that pointless gimmicks sell phones.
Samsung's Galaxy s6 edge is but the latest example.
Consequently, I expect that the real volume will remain in the Xperia Z5 and Z5 compact but I don't see them lifting Sony Mobile out of break-even profitability.
This is because Sony mobile devices are primarily Google ecosystem devices with a few Sony services tacked onto the side.
This means that users that purchase these devices will put more importance in the Google ecosystem than any of the Sony services.
Consequently, Sony will have to price its devices aggressively because the Google ecosystem that users value is available at an equal level of quality on the devices of all of its competitors.
Hence, until Sony creates an experience on its devices that can not be had elsewhere, it will struggle to lift its device margins above 2-4%.
Sony has the assets through PlayStation and its content rights to have the makings of an ecosystem with which to compete against Google, but I am not convinced that management has the will power.
Hence, I expect that Sony will continue to be driven by the selfie craze, PlayStation and Sony Financial Services (see here) meaning that sustainable growth for the long term remains questionable.
I still think that Sony is the only Japanese company with a chance of making it in digital consumer electronics, but its failure to address the ecosystem puts a big dent in my enthusiasm.
I prefer Microsoft, which at the very least, is addressing this issue with everything it has.