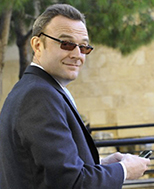 Apple Pay might just kick start the opportunity for everyone. 
The size and brand power of Apple has enabled all of the participants in the complex payments chain to line up together.
With all participants signing-up to support the system, there is a good chance that the user experience will be as easy and as seamless as promised.
To date, mobile based payments has been a dream that has been hobbled by participants in the chain focusing on self-interest rather than the user experience.
As a result, the user experience has been poor, hobbled by security concerns with limited support by the banks and retailers.
Apple Pay is a proprietary system based on NFC that joins the links of the payment chain and quietly takes care of the security concerns.
The fingerprint reader on the iPhone 6 is the main authentication tool but also a secure element inside the iPhone 6 and 6+ takes it one stage further.
It is the combination of these two elements plus the support of the entire chain that might just make this work this time around.
Apple's business model is centred on making its devices as desirable as possible which is the major driver of its industry leading handset margins.
Consequently, Apple Pay is not a technology that it is going to be licenced out to others, meaning that the market for this system will be limited to owners of iPhone 6 and beyond.
If a user wants to use Apple Pay, he will have to pay up for an iPhone.
RFM forecasts that in 2016E, iPhones will make up 13% of all the smartphones across the world.
Keeping Apple Pay to itself will allow Apple to maintain the exclusivity it needs for its profitability but it will be leaving 87% of the opportunity on the table for everyone else.
Many see the advent of Apple Pay as the harbinger of death for many companies that are trying to make it in mobile based payments but I think the opposite is true.
The cream of the market may well be skimmed off by Apple but its take-off will create a renewed impetus for the players that address the rump of the market to get their act together.
This is also a big endorsement of NFC which has struggled for traction due to fragmentation and a bad user experience.
NFC is now very likely to be a key enabler of mobile based payments which is good news for NXP Semiconductor which is the main manufacturer of chips and is the supplier to the iPhone 6 and 6+.
Apple Pay may just be the catalyst that finally allows users to leave their wallets at home but the endemic fragmentation that has crippled this segment must be addressed.
Apple's market power has allowed it to address this issue in iOS but for everyone else there is a huge hill to climb.