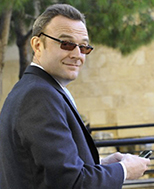 Two lines of ducks are forming.
With a new alliance between Spotify and Tencent and the acquisition of Shazam by Apple, the big players are getting their ducks in a row to dominate the global music industry.
Spotify and Tencent
Following on from Tencent's failure to acquire the company (see here), a compromise has been reached where the two companies will acquire a cross holding in each other and "explore collaboration opportunities".
To me this means two things:

First: Tencent will be able to integrate the Spotify service into the ecosystem experience that it assembles to enable it to address developed markets.
This could form part of an offering that also has a gaming offering using Supercell and an instant messaging offering using Snapchat.
Second: I expect that Tencent will get access to Spotify's best in class music categorisation and recommendation system for use in making its Chinese service better.
For this I expect that Spotify will receive a revenue share from Tencent as I think it very unlikely that Spotify has any real chance of succeeding in China on its own.
This is because Tencent's QQ music is already the leader with 41% share and because like everything else, China's music market is predominantly about Chinese music for Chinese users.
The Chinese music market has been tiny historically, but this is beginning to change as the more affluent end of the market is beginning to pay for streaming services.
Consequently, the Chinese market is almost all digital with only a tiny physical presence.
It is this change that I think has interested Tencent in Spotify's technology as technology is what I have long believed underpins Spotify's superior performance relative to Apple Music enabling it to keep Apple at bay.

A close collaboration between Spotify and Tencent could mean a fully global offering with the exception of India which would probably require an acquisition to get a foothold.
Apple
At the same time, it seems likely that Apple has reached a deal to acquire Shazam, the music recognition company, for $400m.
This is well below the $1bn valuation at which Shazam raised money in 2015 but in 2015, there was a much greater supply of belief.
The issue that Shazam has had is that it has had great difficulty in making money as 2016 revenues appear to have been around $50m with the company hovering around break-even.
I suspect that the company has not grown nearly as quickly as it expected which has meant that profits expected by investors have not materialised making them willing to consider a lower offer.
From Apple's perspective, I do not see this as an acquisition of a service but much more a technology.
Shazam has been analysing and recognising music for nearly 20 years and as a result is pretty good at characterising, recognising and understanding music.
This is one of the traits that makes Spotify's service so good as it is able to take that and match it to users' tastes.
Consequently, I see Apple taking Shazam's technology and incorporating it into Apple Music in a bid to improve its service and compete more aggressively with Spotify.
I continue to believe that the best way for Apple to do that would be to introduce a free tier, but that is a whole other discussion (see here).
This is great news for SoundHound as the loss of independence of its major rival will make it far more appealing to anyone who competes with Apple at any level.
Take Home Message
Streaming has reversed a long decline in music industry revenues and consequently is widely considered likely to become the standard way to distribute music.
I still think that the market is big enough for two players to thrive and Apple and Spotify remain at the top and look unlikely to be seriously challenged.
Hence, these recent moves look to be aimed at cementing the position of the two leaders ensuring that streaming remains a duopoly outside of China and India.