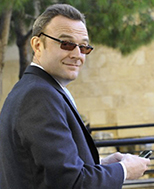 HPQ is drifting from one quarter to the next with no direction. 
HPQ reported good Q3A revenues as market share was gained but weaknesses in the high margin businesses kept any gains from hitting the bottom line.
Revenues / EPS were $27.6bn / $0.89 compared to consensus at $27.0bn / $0.89.
The stabilisation in the PC market that helped both Intel and Lenovo was also felt by HPQ but HPQ also managed to gain share in PCs to 18.3% just behind Lenovo on 19.4%.
Unfortunately Enterprise Services, Software and HP Financial Services all saw declines in revenue
These are the areas where HPQ needs to grow most as it is here where there is value to be added and good margins to be earned.
The result of these declines was lower margins which wiped out both benefits from the revenue beat in PCs and benefits delivered from the cost reduction program.
Guidance for Q4E was in line with expectations with EPS of $1.03 – $1.07 compared to consensus at $1.05.
These results are indicative of the malaise that currently besets HPQ.
The company is cruising from one quarter to the next with no real strategic direction which is showing through in the financial results.
The improvements delivered through streamlining and cost cutting are being eaten up by weaknesses in business that should be growing and badly need to be set to rights.
HPQ needs to decide where it wants to go as a company and make its assets all pull together in the same direction.
This is the only way that the company can return to growth because as things stand at the moment, the next time the PC market dips, HPQ's earnings will go with it.
Lenovo, Asustek, Microsoft and Intel remain far better ways to gain exposure to theme of a recovery in the PC market.