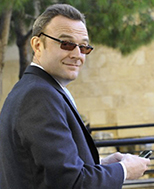 California is a great example of why this will take ages.
The California department of motor vehicles (CDMV) has made a proposal that obviates the use case of a self-driving vehicle in a large number of use cases.
The CDMV is proposing a law that requires a person who is licenced to drive the vehicle to be present at all times while the vehicle is in motion.
If this were to become law it would completely destroy the promise of freedom for those that can't drive, the promise of releasing parents who become taxi services for teenage children and any form of automated delivery service.
There are substantial safety, legal and liability issues that relate to driverless cars and all these will have to be addressed before autonomous cars can really fulfil their potential.
This means that regulations and laws will have to be adjusted to make autonomous driving into account and when it comes to these areas time is not considered to be a precious resource.
Consequently, I suspect that the technology will be available to a commercial grade long before the lawmakers will allow it on the road in any meaningful way.
Many automakers have set a deadline of 2020 by when they expect to have a commercial offering in the market but I think that it is doubtful that these vehicles will leave the factories at that time.
Furthermore, while the vehicles might be ready by 2020, I also doubt that map will be.
I have long argued that it takes at least 6 years to make a good quality map and autonomous vehicles require a map of much greater accuracy than those that exist today.
Google and HERE have only just begun creating the new map meaning that it could be 2022 before its ready for the vehicles.
Hence, I think it is going to be way beyond 2020 before autonomous vehicles begin impacting the lives of the average consumer.
This is good news for the automotive industry which is notoriously slow to adapt to and implement new technology as it will have more time to defend its position against the new entrants.
Over the next few years I expect that every state and every country around the world will weigh in with its own rules and regulations that car makers will have to meet to get their cars on the road.
The net result is that the market will take much longer than expected to develop and those that are now rushing to get to market are likely to arrive way too early.
Consequently I can see lots of ventures struggling to keep the lights on and being acquired by the larger, slower moving companies.
I do not expect to be hiring an autonomous vehicle in Silicon Valley much before my retirement.