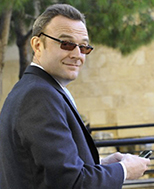 The sword has slipped its moorings.  
With all of the indicators now starting to turn against the TV broadcast industry even live sports no longer offers any real hope.
In 2013 (see here) the shoe was on the other foot where Netflix was trying to do deals with the cable companies to put its app on their set top boxes and be a part of their overall service.
What a difference 4 years makes, as Netflix no longer needs the cable companies to improve its reach and combined with Amazon Prime, YouTube, ESPN, NFL, Hulu and so on look set to render them obsolete.
The most recent indicators are deeply troubling:

First, the Emmy nominations: Netflix increased its nominations from 54 in 2016 to 91 in 2017 putting it in second place behind HBO (111 nominations).
Hulu and Amazon were way behind on 18 and 16 respectively but importantly these are orders of magnitude greater than last year.
Second, cord cutters: 2m adults in USA will have cut the cable this year up 33% YoY which combined with the younger generation that see no need to use cable brings the total to 56.6m users in the US market.
E-marketer forecasts that this will grow to 81.1m or close to 30% of the US population by 2021.
Only the over-55 segment is growing in terms of cable subscriptions with all other segments in decline.
Third, TV advertising: This has stalled at $71.7bn (e-marketer) after resisting this trend for several years and is expected to decline from next year.

These figures make grim reading but I suspect that there is worse to come.
These sorts of trends rarely occur in straight lines and the trend over the last 12 months has been one of acceleration which shows no sign of abating.
The one survivor is likely to live sports as this is the only media type that loses almost all its value when time shifted.
However, there is no reason why this cannot be broadcast over the Internet which is something that ESPN and the NFL have already cottoned on to.
Their apps are already No. 3 and No. 8 in terms of MaU on US smartphones for video streaming apps, further undermining what little appeal broadcast has left.
These statistics are turning against broadcast much more quickly than I thought they would back in 2013 and I see a real possibility that broadcast is no more in less than 10 years.
The broadcasters had an opportunity to deal with the OTT players.
Clearly, they should have taken it.