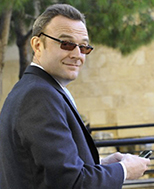 This reinvention makes more sense 
Following on from the mess of its first launch in 2013 (see here), Leap Motion has now shifted its focus from PCs to Virtual Reality (VR) which is a use case that makes far more sense.
The original idea was to use the Leap Motion controller to turn any PC into a touch enabled device but adding it into VR makes far better use of the technology that has been developed.
The beauty of the Leap Motion device has always been its ability to faithfully recreate a pair of fully functional hands in 3-dimensional virtual space.
In PCs, this is a nice to have but in VR it obviates the need to have any hand controllers which is a problem that I think has not been adequately solved to date.
The weakness of the Leap Motion offering is that offers no haptic at all.
While this was not a problem in PCs, I think in VR haptics are going to be increasingly important as the experience aims to be as close to real life as possible.
How Leap Motion aims to solve this problem is unclear and looking at the products that it has available today, not much seems to have changed over the last three years.
This brings me back to the botched launch in 2013, which I have long believed was due in no small part to management execution issues.
However, I also believe that management was under intense pressure from its investors to get to market which resulted in good hardware but less than perfect software which meant that the user experience was far from great.
The result was a device that users played with a few hours and then threw in a desk draw and forgot about.
However, with VR the use case is far more compelling.
Leap Motion can detect movement in all joints of all fingers and thumbs which in a virtual 3D environment has far more applications.
Furthermore, the device is small enough to mount on the front of a VR headset without meaningfully increasing its weight.
The obvious target for Leap Motion has to be integration as the solution would be much less cumbersome with the sensor integrated into the headset.
I think that the combination of Leap Motion with a solution to provide haptic feedback (a pair of gloves?) could provide a compelling offering for VR.
I still think that Augmented Reality (AR) is the future (see here) but it is far more difficult to implement, meaning that it won't hit the big time for some years to come.
In the meantime, I think that the VR solution with the most promise is Sony, as it is one of the cheapest, already has an installed base of 100m devices that can run it as well as a thriving developer community.
However, Sony's has a legendary ability to surrender dominant market positions with barely a whimper so whether it can hold onto any success it has in VR is questionable.
I suspect that Leap Motion will end up being acquired by one of the VR players which I think will be welcomed by its long suffering investors.