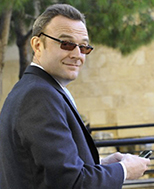 At around $70bn, there should be plenty of sellers.
Uber has approved a deal where SoftBank will lead a $1bn fund raising and at the same time buy around $9bn from existing shareholders which should give SoftBank a stake in Uber of around 14%.
Softbank is investing at a valuation of $70bn and while the purchase of existing shares will be done at a lower valuation, I think that it will have to be pretty close to the price being paid for primary shares to keep sellers happy.
The deal also goes hand in hand with agreements to restructure Uber's corporate governance in a bid to draw a line under the disastrous 2017 that Uber has had.
This is badly needed as management turnover, bad press, unhappy drivers and a series of scandals has led to the company focusing on anything but its core business in 2017.
This has resulted in a meaningful deterioration of its market position and outlook in my opinion.

First, in its home market, lack of focus has led to Lyft being able to confidently expect to improve its market share to 33% from 20% at the beginning of the year.
This leaves Uber on 66% which based on my rule of thumb for network based businesses, is enough to eventually win the market, but its margin for error has been substantially reduced.
This rule of thumb states that a company that relies on the network must have at least 60% market share or be at least double the size of its nearest rivals to begin really making profit.
Coming into 2017, Uber had a 20% cushion before Lyft could really start causing it some problems, but this cushion has now been reduced to just 6%.
Furthermore, with Google is now backing Lyft as the best way for it to get its self-driving technology (Waymo) to market, this gives Lyft much deeper pockets than it had previously.
Second, following its ignominious exit from China (see here), Uber has also lost the Russian market to Yandex (see here).
It is increasingly looking like Uber will end up with USA and a host of smaller markets where there has been no particularly strong local competitor.
India is still in play and I think could be a source of conflict as when this deal closes, SoftBank will have a meaningful position in both Indian rivals (Ola (see here) and Uber).
Third, RFM research concluded that of all the autonomous driving technologies being tested, Uber's is the worst (see here) where Google's offering is 5,000x better.
Autonomous driving will be critical for the ride sharing companies as when the supply side of their marketplaces disappears, they will become service companies or fleet operators.
At that time the quality of their autonomous driving technologies will be a major factor in determining market share and profitability.
With Lyft going with market leader Waymo. Uber has everything to do.

The net result of this series of misfortunes and own goals is that the outlook for Uber has deteriorated materially over the long-term.
I think Uber could easily lose every large market that it is trying for resulting in it ending up being pretty much US only ad even here Lyft is looking increasingly threatening.
On this basis, I think that a valuation of $70bn is a big stretch
Consequently, if SoftBank is offering around $70bn for secondary shares, I think that there will be plenty of supply as I think many people now have a materially lower valuation in mind.