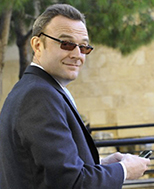 Google and Microsoft go their separate ways.
With every quarter that passes, Google and Microsoft move further and further apart to the point where I don't really seem them as competitors any more. (Google drive and docs excepted).
The contrast between the two companies is now so stark that they are able to schedule their developer conferences at the same time and not worry about double booking developers.
Microsoft Build 2018 will run from Monday 7th May to Wednesday 9th May while Google i/o 2018 will run from Tuesday 8th May to Thursday 10th
With 2 out of 3 days overlapping, it will be almost impossible for a developer to attend both meaning that it is either one or the other.
Historically, all of the big digital ecosystem have been at pains to ensure no overlap in order to be able to draw the maximum number of developers.
The conflict this year is a first and underlines even further Microsoft's ongoing shift away from the consumer towards the enterprise.
However, the conflict no longer matters as enterprise developers will be heading to Seattle while consumer developers will turn up in Mountain View.
There have been signs of this drift everywhere but this was brought into laser focus at the last set of results where Microsoft's enterprise products handsomely beat expectations while consumer chugged along almost as an afterthought (see here).
With the exception of Bing and Xbox (including Minecraft), which also have very little to do with each other, Microsoft's consumer assets are in structural decline and I find it not difficult to make a case as to why Microsoft should divest Xbox.
This would leave Bing which, although far weaker than Google, does have the added advantage of providing a search graph for Cortana as well as data which can be used to train Microsoft's AI algorithms.
From Google's perspective its main rivals are now Facebook (video, chat and media consumption), Amazon (gaming, shopping, digital assistants and media consumption) and, over the next few years, possibly Tencent.
This also explains the signs I have been seeing of Facebook and Microsoft creeping quietly closer and closer together.
There is very little overlap between the two and I can see their current areas of co-operation expanding into AI which is an area where Microsoft is not the best (see here) but it is far, far better than Facebook.
This would alleviate Microsoft of the need to own Bing as Facebook is the global No. 3 in terms of data generation even if it has very little clue of what any of its data is or what it means.
The need for another highly entertaining Scroogled campaign have long since passed.