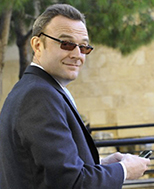 Software asset worth buying from a dying Cyanogen. 
Although, Cyanogen appears to be on its last legs, I think that the software asset that it has developed remains the best alternative to Google Android that is available.
The latest twist in the sorry tale of Cyanogen is the claim that management miss-represented its user numbers to its investors when it raised $85m in March 2015.
At the time of the fund raising a number of 25m tracked users was used that went hand in hand with an estimate that there were around 50m active users of the software overall.
Cyanogen OS has some excellent privacy features that make it impossible to track a device should they be enabled which gave rise to the estimate of another 25m users that the company could not see.
Unfortunately, it appears that the current number of active users is closer to 2m rather than 25m with the commercial version (used by handset makers) registering around 4m (The Information).
I suspect that the accusation of miss-representation is without merit and that the reality is that through poor strategy and execution, the user number has fallen of a cliff in the last 12 months.
Cyanogen began life as the anti-Google Android offering but quickly changed direction when it realised that to get volume, it had to be compliant with Google's standards.
This was when the code split into CyanogenMod (not compliant partly maintained by the community) and Cyanogen OS (compliant and managed by the company).
Cyanogen OS was given to handset makers to create devices and deals stuck with service providers such as Microsoft (Office 365) for a share of service revenues generated.
I have long believed that this business model was doomed to failure (see here) which combined with very poor execution led to no revenue generation and the need for yet another shift in strategy.
RFM research indicates that the current plan is to cease development of the OS entirely and instead concentrate on providing hardware makers with custom implementations of the Android code.
In effect, Cyanogen will become just another body shop with very little to distinguish it from the many competitors that already exist in both India and China.
Cyanogen's list of departed clients is long and includes Oppo (currently 2 the Chinese market), Micromax and many others who have since returned to stock Android.
I think that these clients left Cyanogen not because of the product, but due to the way that they were managed by the company which is what I think prompted the precipitous decline in user numbers.
RFM research indicates that one of Cyanogen's last clients, Wileyfox which is currently front and centre on Cyanogen's website, is also moving back to standard Android.
This leaves Cyanogen with no way for its commercial product to make it to market ending any hope (forlorn in my opinion) that it would ever generate any revenues.
I do not think that Cyanogen's last gasp strategy to become a body shop will work because it's a commoditised business where there is brutal price competition.
This is a very disappointing outcome because I have long held the opinion that Cyanogen OS is an excellent implementation of Android.
Furthermore, in its recent iterations of the code it has enabled the kind of data sharing that I think is required for an ecosystem to take its functionality to the next level.
Consequently, Cyanogen OS is an excellent option for any ecosystem that needs to have control of its user experience, be able to evolve it, deploy its services and set them as default.
RFM research (see here) indicates that this is what the Chinese ecosystems need to do to evolve into full ecosystems with a complete set of Digital Life services.
Outside of Alibaba (with YunOS and Meizu) and Xiaomi, the other ecosystems are at a very early stage and I think that acquiring the Cyanogen OS would give them a rapid leg up in the race.
Furthermore, I think that any other player is that is thinking of trying to break free from Google in Android in emerging markets should also be interested in acquiring this asset.
The proceeds from the sale could give Cyanogen some more runway to get this new strategy off the ground even though I suspect that it will never take-off.
I see one of the BATmen as the most likely buyer.