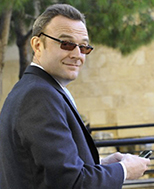 Its time Didi started trying to make money.
With the ride hailing market in China now wide open for it, Didi has no reason to go on burning billions of dollars for the sake of growth.
Consequently, I cannot see a good reason for Didi to raise $6bn as it should be looking to internal cash flow to fund its investments.
The one exception is to have a war chest for acquisitions in order to go global, but I think that it is better to buy expensive paper with equally expensive paper rather than cash.
In China and across the world, ride hailing has been a bottomless black hole into which Uber and many others have poured billions of dollars in order to establish a firm grip on the ride hailing market.
This is because like all network businesses (see here), barriers to entry are very low meaning that competition will be brutal unless one player becomes significantly larger than all of its rivals.
A company in this hallowed position then becomes to the "go-to" place for the service in question and it is then that real monetisation can begin.
The rule of thumb that I apply here is:
A company that relies on the network must have at least 60% market share or be at least double the size of its nearest rival to begin really making profit.
Any market with more than one player will be a bottomless hole of investment as each tries to undercut the other in order to reach the hallowed status of being the "go to" market place.
Once there, it will have become so sticky that customers will pay a little more to access the sellers and the sellers will be willing to do exactly the same.
This how a network business changes from being a bottomless pit and becomes a gold mine.
With Uber's ignominious withdrawal from the Chinese market (see here), I think that Didi has already reached this status and so it should now be looking seriously at monetisation rather than growth at any price.
For Didi, a position in autonomous driving is likely to be as important as it is for Uber (see here), but I struggle to see how it needs $6bn for this.
Furthermore, RFM research and historical data strongly indicates that excellence in autonomous driving and artificial intelligence is a function of time spent and data collected rather than absolute numbers of dollars invested.
Consequently, even if it starts today, Didi is likely to be far behind Baidu which intends to have autonomous cars on the road next year.
At the end of the day, the price of ride hailing in China (and elsewhere) has to rise otherwise Didi, Uber and all of the other players will never be going concerns.
Hence, I think that Didi should be looking at strategies of phasing in the price rises that it needs to offer its existing shareholders a decent return rather than investing right, left and centre and promising jam tomorrow.
Dull as it sounds, Didi is in a position to start producing jam today.