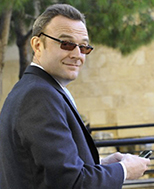 Facebook's growth story hits a temporary bump for 2017.
Facebook reported good results but once again tried to temper enthusiasm with reality by saying that overall growth this year would slow materially.
Q1 17A revenues / EPS were $8.03bn / $1.04 nicely beating consensus at $7.8bn / $0.86.
Advertising revenue was $7.9bn of which mobile was $6.7bn making up 85% of total advertising revenues.
The user count has now hit 1.9bn MaU (1.3bn visiting every day) with the vast majority coming from mobile.
Video and Instagram remain the biggest drivers of growth but Facebook has reached a limit in terms of the amount of advertisements that it can stuff into its apps.
Further increases could improve revenues in the short term but would probably lead to a fall in engagement which would negatively impact revenues anyway.
Hence, Facebook is turning to other avenues to find growth.
With its existing mature apps, Facebook has 36% of the Digital Life Pie and this is now fully monetised.
This is why, I have long been of the opinion that to become a $40bn revenue company, Facebook needs to increase its coverage of Digital Life.
The good news is that the signs of this continue to strengthen and at its developer conference, Gaming and Media Consumption were in sharp focus.
The issue is that I don't think that Facebook's Media Consumption offering or its Gaming strategy are mature enough to really start generating revenues which is why revenues will really start to slow down this year.
The street is expecting a 40% YoY improvement in revenues this year which I think is unattainable.
However, once those new services hit maturity, I think that Facebook will once again, be in a position to beating expectations.
Consequently, as the disappointment sets in for lower growth in 2017, I expect the valuation of the stock to moderate.
This will be driven by straight-line-loving (of which I am equally guilty) analysts bringing down their long-term forecasts in response to short-term issues.
It is at the point that the greatest opportunity exists to invest in Facebook for the next leg of its development.
In the meantime, I continue to prefer Microsoft, Baidu and Tencent.