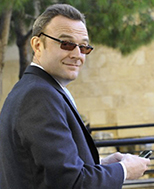 Humans are not the answer.
Facebook reported strong results but gave disappointing guidance as its shortcomings in AI mean that non-productive headcount is going to skyrocket, materially hurting profitability.
Q3 17 revenues / EPS were $10.3bn / $1.59 comfortably above forecasts of $9.8bn / $1.28.
Once again this was driven by growing engagement on mobile and users spending more time watching videos that have originated on Facebook.
Active users have now reached 2.07bn with 1.37bn using the service every day.
This sets Facebook up nicely to become by far the biggest ecosystem outside of China, but it still has a long way to go.
Currently Facebook is made up of a few discrete services which need to be migrated into an integrated suite of services where users can spend the majority of their digital lives.
This transition is underway and it is still a work in progress, but the commentary for this quarter reveals just how serious the AI problem is.
Facebook has a serious fake news problem and it also believes that some countries are using its platform to interfere in the political process of other nations.
To combat this, it has announced that the total number of employees working on safety and security will be doubled from 10,000 today to 20,000.
Given that the total number of employees at the end of June 2017 was 20,658, this implies that 50% – 60% of all Facebook employees will be working in non-revenue producing positions.
This will mean that costs will meaningfully outstrip revenues leading to a "significant" decline in profitability.
I strongly believe that there will be no need for a corresponding increase of headcount at Google, Baidu, Yandex, Microsoft, Amazon or Apple to deal with these problems as these companies are much better positioned to create a solution using AI.
In contrast it seems that whenever Facebook attempts to automate anything, it inevitably goes awry resulting in the need for more humans to fix the problem. (see here, here and here)
Furthermore, humans are ill suited to solve these kinds of problems as it takes far too long to find and remove the relevant content meaning that it will have already trended and been seen long before it is removed.
I think that this process has to be automated to be effective and as a result, Facebook's costs are going to rise and the problem is unlikely to be solved.
Consequently, I think that the money would be far better invested in AI rather than in bodies as AI is how the problem will eventually be solved.
Until then the financial performance of the company is likely to suffer weakening the case for the shares to trade such a high multiple.
Consequently, I think that this is a good time to start thinking about taking some profits and reinvesting the proceeds elsewhere.
Long-term there is still upside, but this requires a much deeper Digital Life offering and world class AI both of which are still far from being achieved.
There is likely to be a better time and place to build a position in Facebook for the long-term.