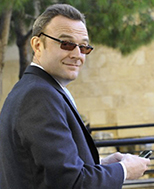 There is a bump in the road ahead.
Facebook reported very strong results as revenues from both mobile and fixed saw stronger Q4 seasonality than I had been expecting.
This combined with increasing optimism around Facebook's resistance to a slowing economy sent the shares up 12% in after-hours trading.
Q4 15A revenues / EPS were $5.84bn / $0.79 compared to estimates of $5.37bn / $0.68.
Facebook generated had 1.44bn mobile users who generated 80% of Q4 15A revenues or $4.67bn, ahead of RFM's estimate of $4.35bn.
These strong figures were driven by both the price that Facebook charged for its ad. inventory and an increase in total ad. volumes highlighting the probability of further market share gains.
Facebook is able to charge higher prices for its mobile ads as its understanding of its users and hence the accuracy of its targeting is better on fixed than it is on mobile.
Facebook is optimistic for 2016E but expects that there will be some drag from the strength of the US$ as well as tougher comparisons to the excellent year just completed.
I agree with Facebook's view that it remains reasonably insulated from economic woes as most of these are coming from China where it is not present in any meaningful way.
However, profitability in 2016E is likely to fall as the company is budgeting for 30% – 40% growth in OPEX and I very much doubt that revenues will keep pace.
Furthermore, I am much more cautious than management on the year ahead especially for the second half.
This is because Facebook is getting close to fully monetising the segments that it occupies in the Digital Life pie meaning that it needs to expand its coverage to keep growing.
I see Facebook heavily engaged in doing just that with Oculus, Messenger, WhatsApp, Video and Facebook M but these are going to take time to come to fruition.
Consequently, there is a real risk that Facebook runs out of growth before the new drivers become mature enough to take over the mantle of growth.
I think that this could happen in H2 2016 and I would not like to be long Facebook when this realisation hits the market.
I am looking for a big correction to create a great opportunity to enter the stock for what could well become the preeminent ecosystem of them all.