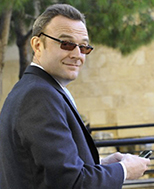 The success of Firefox hinges on a single promise.
Lots of attendees and lots of partners were present for the launch of Mozilla's Firefox OS that has been squarely aimed at emerging markets.
The new OS is written entirely in HTML-5, which adds a number of features that gives the system apart from its competitors.

Firstly, the software and hardware (by Qualcomm) have been thoroughly optimised to work together which dispels the old problem of web apps running slowly and consuming vast resources.
Secondly, with the whole device running in HTML-5, the apps can either run in the browser or stand-alone on the device. This allows application to be "temporarily installed" and then discarded after a single use.
This will resonate with those have loads of apps on their devices that gobble resources, need to be constantly updated but have hardly been used.  
Typical example would be a new game that promises to be great but ends up being poor. Typically this would sit on the device, gobbling resources but never touched again.
Firefox OS can download the apps into the browser, run them with the same performance as HTML-5 is native to these devices and then get rid of them when finished.
Thirdly, It going to be cheap.
Mozilla promises mid-high Smartphone performance at mid to high feature phone prices.
I think this means prices around the $80-$130 mark with one of the operator partners putting his peg in at $100.
To me, this is what will make FireFox OS work. If this promise is really delivered on, then there is a proposition that is worthy of hundreds of millions of users.
If not, then it will just be used by operators as a stick with which to try and beat Apple and Android into submission before failing and being dropped by the wayside.
Fourthly, it is not a new community. There are lots of developers out there already writing for HTML-5 meaning that developer traction and apps is unlikely to be a major problem.

However, the problems are legion:

It is open source code with 50% of the code being contributed by volunteers.
What is more Mozilla's philosophy is for total openness with no one having overall control
Its very nice but this is a recipe for total anarchy especially in a world that is so driven by hardware.
Android is already chaotic enough and is incredibly vulnerable because of it. This could be far worse meaning that the users can never really get on top of the proposition.
Security is going to be a nightmare. Loads of app stores and developers delivering code directly to users basically means that there will be virtually no control preventing malicious code from getting past hapless users.
There may be some way of controlling this by running apps in the browser, but this not going to solve the problem entirely.
Mozilla and its partners have chosen the most brutally competitive and toughest part of the market to address.
This is why it must deliver on its promise or no one will ever notice.

The bottom line is that Mozilla has an interesting proposition but I think, like Jolla, it has missed an opportunity.
Android looks very vulnerable and there I see no reason why users in developed markets might not be tempted by something different when they come to change their phones.
This is a more benign market even though it is mature and I think that Mozilla and Jolla are ruled themselves out from a much easier win.
This is great for Nokia and Microsoft, as they have been pretty much left to their own devices in terms of sticking the knife into Android in developed markets.
Success is going to depend on the performance promise and on its partners making data available to users at much more reasonable prices.
I need to see 100m+ active subscribers to see FireFox OS as viable, 300m+ to call it a real success.