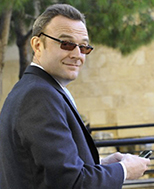 Second blood goes to Google.
Google has scored a badly needed win over Amazon as Amazon has said it will start selling Google's Chromecast devices once again which is almost certainly a bid to get YouTube back on its devices.
This is a sure sign that Amazon needs Google more than Google needs Amazon and further underpins how important the ecosystem is.
When I compare Google's digital ecosystem against Amazon's the results are night and day.

First, Digital Life: On RFM's Digital Life analysis Google scores 40% while Amazon is on 30%.
However, if I look at the services that have hundreds of millions of users, then Google is miles ahead as outside of shopping the only service where Amazon has traction is Media Consumption (Amazon Prime Video).
It is clear that Google's ecosystem is far more developed and more complete than Amazon's.
Second, RFM 8 Laws of Robotics: These are the measures that asses the quality of these services and here the contrast is even more stark.
Google has problems around the user experience on Android driven mostly by software fragmentation and an inability to update software but outside of that it gets top scores across the board.
Amazon's score indicates quite clearly that it has no real understanding of what is required to build a thriving ecosystem that users love and demand.

The result is that users of Amazon devices are likely to demand that Google services are made available on them with a good user experience and are less concerned with Amazon's own services outside of shopping.
Failure to provide this could easily drive those users to buy other products as Amazon's one Digital Life service that has some traction (Amazon Prime Video) is widely available on most streaming devices and smart TVs.
This is what has given Google the upper hand in this latest spat and I am certain that this is why Amazon has backed down.
This is a badly needed win for Google as in the smart home its digital assistant remains way behind Amazon's Alexa despite being a superior product.
I still see Google as being on the backfoot when it comes to the smart home, but it has closed some of the gap to Amazon in terms of third party developer support and it remains a superior product.
This will be a key battle that is played out in 2018 and the level of support offered by device and service developers when they show their wares at CES in January will be a key indicator.
Market penetration remains very low and so there is still everything to play for but I still think that in the long-run Google should win as it has the better product.