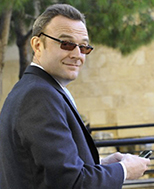 Clever devices are useless without volume.
Behind the carefully orchestrated event was a series of strategies aimed at driving penetration of devices which to date have been very disappointing.
Google made up for slightly below par hardware by maximising its leadership in AI to provide best in class functionality as well as some unique features that no one else is likely to be able to copy for some considerable time.
However, the key to badly needed volumes will be execution as Google completely bungled the open goal left by Samsung after its Note 7 disaster.
Pixel 2 / 2 XL
Google has updated the Pixel phones and has moved to OLED displays.
In contrast to iPhone X, Google has opted to make use of the always on display feature that allows key information to be displayed when the screen is off with almost no impact on battery life.
Why Apple declined to make use of this excellent feature on the iPhone X is a complete mystery.
What really sets the Pixel 2 apart are the new features such as Google Lens which offers the best image recognition and the fact that Google uses AI to do with one camera while everyone else needs 2.
However, Google openly admitted that volumes of Pixel have been disappointing and its offer of a free Google Home Mini is clearly aimed at driving badly needed volumes of this device.
Pricing remains punchy at $649 for the Pixel and $849 for the XL making the comparison to better looking Samsung s8 and iPhone 8 inevitable.
I suspect price is going to be an issue for users considering this device.
Google Home.
Two new products were introduced:

First: Google Home Mini ($49) which takes direct aim at the best-selling Amazon device (Echo Dot) in another clear attempt to drive badly needed volume.
Second: Google Home Max ($399) which goes up against Sonos and Apple HomePod.

The broadening of the portfolio should help Google increase its penetration of the home but the smart home piece is still badly lacking.
Google claims that 1,000 devices from 100 manufacturers now work with Google Home but it failed to demonstrate any and instead concentrated on products from Nest.
Google also launched routines which is exactly the same as the Amazon Echo function of the same name and something that all smart home controllers need in my opinion.
The integration of Google Home with other Google devices and the functionality being added is far ahead of anything else available but the smart home bugbear continues to rankle.
This means that anyone serious about smart home is likely to choose Amazon simply because they know that anything made for the smart home will work while the same cannot be said for Google.
This needs to be fixed and will remain the reason for Google's potential defeat at the hands of Amazon because elsewhere it is by far the best product available.
Google Accessories.
Two companion products were launched which deepen the cross-device functionality as well as highlight Google's core AI strengths.

First: Pixel Buds ($159). These take aim at Apple's popular AirPods (also $159) and while the design looks inferior, the functionality is excellent.
This includes an exciting implementation of Google Translate that works with the Pixel phone to enable usable voice translation in 40 languages.
It also allows easy access to the best in class Google Assistant in a similar way to AirPods.
The difference here being that Google Assistant is a substantially better service than Siri.
Second: Google Clips ($249). This looks like a regular GoPro or Yi camera but the differentiator lies in its functionality.
The idea with clips is to position the device during an event or gathering and leave it to gather the best photos and video clips.
Again, this is Google using its leadership in AI to differentiate and if this feature works well, I suspect that it will be a very good reason for users to buy this product.
The number one use case for GoPro and Yi cameras is family despite their sporting image and it is this use case that Google is taking aim at.
If it works well and gains traction, this spells more trouble for GoPro which has struggled with software and ecosystem from Day 1.
Take Home Message.
Google has substantially deepened its cross-device capability with the new launches as these devices should all work extremely well together.
I think that Google comfortably leads the industry in this capacity.
Furthermore, much of the functionality that Google has demonstrated should make its way onto the Android devices from other manufacturers driving which should really help penetration.
How well they work on the hardware of others is a concern as manufacturers tinker with Android that always seems to result in inconsistent and subpar performance of apps and services.
Consequently, in terms of driving deeper and richer services for its ecosystem users, this was a successful event but the real question remains what volumes will Google's own hardware achieve?
These services will obviously work better on Google controlled hardware where the endemic fragmentation and lack of software updates are not an issue.
Execution and marketing are the two things I am looking for from Google as to date, these have been woefully lacking.