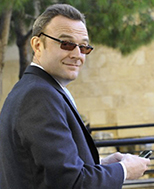 Hewlett Packard is painting itself as the honest victim of fraud, when it comes to the acquisition of Autonomy, but an honest fool is still not fit to run a big company.
Just 14 months ago, HPQ announced that it would spend almost all of its available cash to acquire Autonomy for £6.3bn ($10bn).
Yesterday it wrote off almost 90% of that acquisition, alleging that the directors of Autonomy had wilfully misrepresented the company's financial position in order to obtain a higher valuation at the time of acquisition.
At the same time, the company reported disappointing results and guided weakly for the coming year.
Revenues will remain under pressure in fiscal year 2013 with full year / Q1 EPS expected $3.40-$3.60 / $0.68-$0.71. This compares unfavourably with consensus at $3.37 / $0.74.
As usual, the weakness is near term with the balance expected to be made up towards the end of the year.
This does not inspire confidence that the full year estimates will be met.
I view the mess surrounding Autonomy as the strongest signal yet that the board of HPQ is not fit for purpose.
The main reason for this is that noise around accounting irregularities at Autonomy is nothing new.
Autonomy's detractors have been writing about this for years and there has been the occasional obvious sign that things were not quite right.
The most common red flag was that cash flow in some quarters often did not match profit. This is quite unusual in a software company.
The balance was often made up in subsequent quarters but critically, this and other issues caused people to wave the red flag.
To any reasonably prudent person, this would have made him doubly cautious when looking into the financial position of Autonomy.
History has shown that a determined person can deceive a competent auditor without too much difficulty because it is simply not economical or timely to look under every single rock or pebble.
In this case, there were more than enough red flags and so much money at stake to warrant a due diligence that went beyond the audited figures.
This case is also unusual as most of the time, the alleged perpetrators head for the hills but this time they are standing their ground.
This raises questions regarding HPQ's allegations that only the FBI and the Serious Fraud Office will be able to answer.
To me, whether or not the management of Autonomy duped HPQ into paying way too much is irrelevant.
It has happened, shareholders have already paid the price and there is very limited scope to get any of the money back.
What is much more important is what this really says about the board of directors of HPQ and the long term outlook for the company.  
Management who were responsible for the deal have long since paid with their heads but the board who signed off on this deal are largely still there.
Meg Whitman was, at the time, one of those directors.
This adds considerable weight to my view that the management and directors of HPQ do not have what it takes to turn this company around.
HPQ needs vision, audacity and above all a new board of directors.
Until there is a complete clear out, I think that this company will lumber from one quarter to the next and present no real vision about how it becomes a proper technology company again.
I see its rivals who are adapting to the realities of the changing market, wearing it down and whittling away its market share.
The old English saying: a fool and his money are soon parted remains as true today as it was in the 16th century.