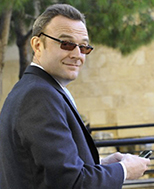 HTC is selling the family silver to stay alive.
HTC reported dreadful Q1 16A results as EBIT losses ballooned to 32% of sales while revenues fell 36% YoY and NT$5.1bn (37% of sales) of cash from operations was burned.
HTC has continued to lose market share triggering the classic handset death spiral.
This means that HTC has to continue cutting costs which means its devices become less appealing so market share falls again and so on.
The market (and increasingly the company) has written off the handset business and is pinning all of its hopes on the Vive, HTC's virtual reality product.
This product has received good early reviews and its early move to support VR in a mobile environment and provide hand controllers puts it in a good position should this market take off.
However, its competitors Facebook, Sony, Microsoft, Samsung and so on are also looking to sell their VR products and aim integrate these products into their existing platforms which already have millions of users.
This is where HTC has is at a disadvantage as when it comes to users, it will be almost starting from scratch although it will have some help through its association with Steam.
To make matters worse, HTC's war chest is diminishing fast and it is quickly selling the family silver in order to support the substantial cash burn.
During Q1 16A HTC recognised cash gains of NT$2.1bn from selling fixed assets, NT$6.1bn from selling non-current financial investments and NT$1.4bn from selling current financial assets.
This is how HTC managed to show an increase in cash and cash equivalents (compared to Q4 15A) of NT$3.7bn.
These sales are very likely to be one time in nature meaning that, in reality, HTC is draining its reserves by NT$5.9bn every quarter.
These asset sales have masked what was a dreadful 3 months for HTC and I am concerned that the Vive will not take off in the kind of volumes or soon enough to keep HTC from real trouble.
Consequently, 2016 is likely to be dominated by the agonising decline of its handset business raising the high likelihood of further substantial cash outflows.
Consequently, the most I would pay for HTC would be 1 times its cash balance as I view the Vive as a long shot to rescue the company and it is very likely that the cash balance will continue declining.
This would put the shares at NT$47.1 some 32% below where they are today.
Current holders have the opportunity to cash in on expectations of the Vive long before those expectations ever have to be met.
I would be taking that opportunity.