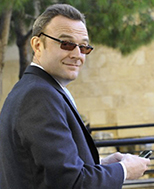 The Digital Life pie is essential for stickiness.
Following 2½ years as an iPhone user, I decided to try and make the switch to Android and was amazed by how easy it was.
I have switched from iPhone to a Samsung Galaxy s8
I believe that the ease of transition came down to three factors:

One: Android is much better now than it was in 2014.
Two: I am not a user of any of Apple's Digital Life services.
Three: Most apps are now free to download with either in app purchase, advertising or a subscription.
Furthermore, most apps now store user data in the cloud meaning that switching is simply a matter of downloading the app and signing in.

My thoughts after living with Android for one month are as follows:

Get out of jail. Android is a breath of fresh air in that I can install anything that I want with no problems.
The Google Play store does not offer some apps in my region but this was easily fixed by downloading Aptoide which has virus-screened versions of almost everything.
Furthermore, on Android anything is possible and a developer has already worked out how to re-map the Bixby hard key to Google Assistant.
However, this freedom comes at a price in that many things simply do not work as well or as reliably as they do on iOS.
I suspect that this is mostly a result of the endemic software fragmentation that exists across Android devices which remains as bad now as it has ever been.
I still have to be my own systems integrator.
For example, the weather widget that ships as default on the home screen of the Galaxy does not work properly when it comes to updating the weather information in other cities that the user has added.
The biometric security unlocking does not work properly all the time and apps crash and quit with greater regularity compared to iPhone.
Voice and radio performance: The iPhone still sets the gold standard in terms of the quality of voice calls and radio performance in areas where the signal is not optimal.
Fortunately, because I am not a big voice user, this is not a huge issue.
Furthermore, even though the s8 offers much better control of Bluetooth devices when more than one is connected at the same time, the iPhone offers better stability and reliability.

The main observation that I have made is that moving my Digital Life from iOS to Android was far easier than I thought it would be.
A major reason for this is that outside of photos and videos which are a cinch to move thanks to Google Photos, I am not a user of Apple's Digital Life services.
I have never used Facetime or iMessage and as a result I was not locked into the network that Apple has created around those services.
This throws into sharp relief the key weakness of the iOS ecosystem which is the same now as it has always been.
Apple's position in Digital Life services is weaker than many of its peers meaning that the key selling point remains the quality of its user experience and its ability to distribute the apps and services of third parties in a fun and easy to use way.
If Android close this usability and security gap to iOS, I think that users will be less inclined to pay a substantial premium for iPhone compared to something similar running Android.
This is why Apple has been working hard on things like Apple Pay, HealthKit and HomeKit but I think it needs to do much more before these can be considered really defensive.
Given, Google's very slow progress in taking control of its ecosystem on Android, I think that this still gives Apple a good 3-5 years before its handset margins will come under pressure.
Apple's developer conference kicks off today where I hope to see announcements aimed at keeping Apple's differentiation over Android.
Furthermore, the iPhone 8 promises to be a worthy challenger to the excellent Galaxy s8.
I have liked Apple on valuation grounds for a considerable time but following the recent increase in its valuation, it no longer offers the same value that it did.
Hence, I still prefer Microsoft, Tencent and Baidu.