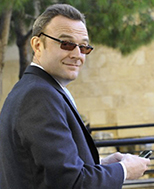 They say that I should not be surprised by the exit of Steve Sinofsky's departure from Microsoft but I am as I was expecting the other Steve to leave.
With Sinofsky's exit, goes any real chance of Ballmer leaving Microsoft any time soon and also the prospect of a near term catalyst to drive the share price.
I view Steve Ballmer as an engineering driven, drill sergeant who can be a bit like a bull in a china shop.
Historically, this approach has been very effective but the new challenges that Microsoft now faces arguably needs a more creative mind to address.
Hence, the idea that Steve Ballmer is staying on is negative to me but will probably please the gents over at Infinity Loop.
Steve Sinofsky has done good things in his time and has a reputation of delivering software on time.
Admittedly, he has done this by cutting features in order to make a deadline but these can be retrofitted through updates.
He took over Windows and produced the superb Windows 7, a successful update to Office and now Windows 8.
Windows 8 is off to a slow start but that's not because Microsoft has not delivered what it said it would when it said it would.
Hence, I believe that Steve Sinofsky was looking to take over as CEO.
Steve Ballmer has long been rumoured to be looking for the right time to hang up his stripes.
He has seemed to me unhappy in the role for some time now, and following the launch of Windows 8 (arguably the most important launch since Windows 95), looked like a great time.
I suspect that Sinofsky had been waiting for this and when it did not materialise, his position become untenable.
Ballmer is 56 years old and could carry on for another 10 years before retiring which, with Sinofsky at 47, is far too long to wait.
I think that when it became clear to him that he would not become CEO for some considerable amount of time, the relationship with Microsoft soured making it time to move on.
I view this as a negative for Microsoft as a change in its culture and philosophy would help the company better meet the challenges it faces in a world that increasingly looks beyond the PC.
Whether Sinofsky was the right man to effect that change is highly questionable, but perhaps this manoeuvre opens the door to the next venture for Scott Forstall when he becomes free in 2013.