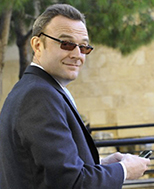 A modular device is far harder than it sounds. 
Google is continuing to struggle with Project Ara underlining the fact that making a mobile device that is modular is much more difficult than one would think.
Google was planning on launching its modular device in Puerto Rico this year but that has now been placed on hold as the market pilot is being "re-routed".
This may have something to do with the new move to be more cost conscious as I continue to believe that Project Ara will be another financial black hole like Google +.
There are several others all trying this idea such as Puzzlephone, Vsenn and Fonkraft all of whom I understand are having difficulties.
Fonkraft mysteriously had its Indiegogo campaign pulled as it was deemed "too risky".
I suspect that this means that it Indiegogo concluded that Fonkraft had no hope of fulfilling its promises of meeting the price point of $100 while remaining solvent.
The reason for these problems is simple.
Making a modular device is extremely difficult because modularity adds a new series of requirements and constraints.
A modular device is a phone, tablet or other device where individual components such as the screen, camera, CPU, battery, memory can be removed by the user and replaced by others with a different specification.
This is a great idea in theory but getting it to work in practice has flummoxed the mobile device industry for over 10 years.
This is because there some fundamental limitations inherent to the design that have yet to be overcome.
These are:

Each module requires an individual case and a connector. These take up space, making the resulting device bulkier and less sleek-looking than a normal device.
Each swappable component has to remain distinct from all the others. Integrating components together is a tried and tested method of cost and size reduction meaning that a modular device has always been more expensive to make.
Every swappable component has to be tested with every other in every possible configuration to ensure that they all work together properly. This means that testing and certification is much more onerous meaningfully increasing development costs.

In every instance to date, this has resulted in a bulky, ugly device that has a lower specification and higher price than its competition.
Consequently, it comes as no surprise that all of these devices to date have been failures.
I see nothing in Project Ara that would lead me to believe that it will be any different and I suspect that this is the real reason behind the delay / rethink.
I think that for a modular device to work, the end product must fulfil four rules of the road. These are:

It must be the same size and weight as competing products.
It must make no compromises in terms of styling,
It must offer the same functionality as competing products.
It must come at the same price point.

If all three of these can be fulfilled then there is a real chance of success as the user is being offered something new without having to make any compromises.
I have yet to see anything that comes close to fulfilling those four rules meaning that this segment remains wide open.
I suspect that it will be one of the larger players that is well financed, has a track record in hardware design and has money for marketing that eventually cracks it.