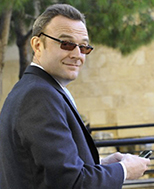 Nuance looks good for private equity not Samsung.
Nuance is a provider of speech and language technology that is used by Apple in its Siri digital assistant.
It has fallen on difficult times and with the recent addition of an activist investor, is feeling pressure to release some value.
Hence, it appears very likely that the company is entertaining suitors, one of which seems to be Samsung Electronics.
Samsung & Nuance
Samsung is a company at the top of its game but RFM believes that earnings are going to decline for the next 3 ½ years at least. (see here)
Samsung has ceded control of the ecosystem to Google leaving it with a commoditising handset business.
This is likely to result in a decline in handset margins from their current 18.4% to 11.3% in 2017E.
Outside of the ecosystem RFM believes it is possible to earn a good and sustainable return by being the provider of value added technology.
Both MediaTek and Qualcomm do well in this regard.
Nuance falls into this category but being owned by Samsung could cause a substantial collapse in revenues.
This is because many of Nuance's customers may view Samsung as a competitor and would not want to be dependent on the technology of a competitor.
Hence, to get value from Nuance, it would have to add enormous value to its own products in order to make up from the revenue loss caused by customer losses.
This, combined with the fact that the kind of problems faced by Nuance make it ideal for a private equity deal, leads me to believe that private equity will pay much more for Nuance than Samsung will.
Nuance and private equity
Nuance has got itself into a difficult position.
Its financial performance has not been great over the last few quarters although some new products have been introduced that could improve the financial position.
The two other big issues with this company are that it is quite indebted and management compensation is extremely high given the amount of profit that is generated.
These factors make Nuance ideal for a privatisation where the company is taken over, cleaned up and then returned to the market at a much higher valuation.
I suspect that this would be the alternative most pleasing to Carl Icahn who holds a 20% stake in the company.
In this scenario, I would expect him to hold onto his stake until the private equity shop exits.
Take Home Message
It is easy to see why Samsung might be interested in this company, but I suspect that a private equity outfit is likely to be prepared to pay more to acquire the shares.
This combined with the fact that the kind of changes that are required to improve performance are best suited to a private equity transaction, are likely to push any deal in this direction.
Hence, I think it very unlikely that Samsung will acquire this company.
Should be wrong, it is likely to further increase my concerns around Samsung and push my valuation of KRW1,200,000 per share even lower.
I remain very cautious on the outlook for Samsung Electronics.