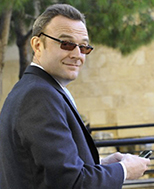 Tencent dominates but still has much more to do. 
Tencent already dominates Digital Life in China and now it is increasingly turning its attention to the opportunity overseas.
This makes sense as China is starting to show signs of maturity meaning that the recent breakneck pace of growth will inevitably slow down forcing the BATmen to look overseas for more growth.
RFM has long identified that ecosystems and smartphone usage in China and developed markets are very different (see here).
This means that Chinese Digital Life services are not really relevant in developed markets and visa versa.
This means that overseas expansion for the BATmen has to be much more than just attempting to offer their Chinese services overseas.
While Alibaba is looking to grow overseas using AliPay (see here), Tencent is focused on adding relevant developed market assets to improve its coverage of Digital Life in developed markets.
This strategy has begun with the purchase of Supercell giving Tencent coverage of Gaming but it looks as if Tencent is keen on acquiring other segments of the Digital Life Pie also.
Most recently, Tencent appears to have made a move on Spotify that would have given Tencent a very strong position in Media Consumption.
Combined with Gaming, this would have given Tencent 40% coverage of the Digital Life pie in developed markets along with the 77% that it already has at home.
Spotify appears to have spurned Tencent's advances, but I suspect that Tencent will continue to look for key strategic assets to improve its position in Digital Life in overseas markets.
Currently, Tencent has 30% coverage with Supercell but there is far more to creating a vibrant ecosystem than just gathering assets which provide coverage of Digital Life.
The trials and tribulations of Yahoo are all the evidence that one needs to conclude that one cannot succeed by coverage alone.
In 2014, Yahoo had 73% (more than anyone else at the time) of Digital Life covered but failed to create any meaningful traction on mobile devices.
This is because it was unable to take what were essentially fixed services and successfully leverage them into mobile.
Tencent does not have this problem as its traction in mobile is already strong but what it is missing is an understanding of the importance of integration.
I have long believed that to be really successful, the different services across Digital Life need to be integrated such that usage can be understood as a profile rather than a series of discrete and independent services.
This is one of the key ingredients of Google's success and is something that Baidu and, increasingly Alibaba, are beginning to get to grips with.
Tencent on the hand, appears to be quite far behind in terms of grasping the importance of integration as I still see no signs of this happening.
In the short-term this is not a big problem but as Tencent's valuation continues to rise, it will become an increasingly necessary for Tencent to bring its assets together in a cohesive way to justify its share price.
This is how Tencent can really begin to monetise its ecosystem beyond the sale of content and games and become a place where users spend their Digital Lives.
In China, some of this is coming through the rapid expansion of WeChat from a place to exchange messages to a place where all sorts of transactions can be executed.
However, in the long-term Tencent needs to have all of its services integrated and in that regard, there is quite some way to go.
I continue to like Tencent as it is the strongest of all the Chinese ecosystems and the share price still does not reflect all of the potential upside.
Hence, there is still not much very downside in Tencent if it fails to integrate its assets.
At the same time there is the promise of further improvement in the long-term if it begins to develop its ecosystem beyond a series of very successful but discrete services.
Tencent, along with Baidu and Microsoft remain my top picks.