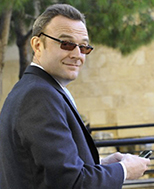 Trump card fails to win the trick.
Despite becoming a major channel for the White House to communicate with voters, the realities of Twitter's situation have continued to dominate its financial performance.
Q4 16A revenues / Adj-EPS was $717m / $0.12 badly missing consensus at $740 / $0.23.
Monthly active users (MaU) also remained stagnant coming in at 319m up 4% YoY which reflected the anaemic revenue growth which was just 1% YoY.
Daily active users did manage to grow 11% indicating some increase in engagement with the service, but it was not nearly enough to convince advertisers to spend more money on the platform.
This reality was reflected in Q1 17 guidance where Adj-EBITDA will be $75m – $85m well below consensus at $188m which I think reflects stagnant revenues as well as higher investments in media consumption.
I continue to believe that the lack of growth is caused by the fact that Twitter has already fully monetised its segment and in order to grow revenue further it has to address the other segments of the Digital Life pie.
In this regard, Twitter has opted to go for Media Consumption which would add another 10% points to its coverage, bringing it to 28%.
This is why its progress with its streaming of NFL games and partnership with Bloomberg, Buzzfeed News and PBS is so important.
If Twitter can develop this offering into a fully-fledged Media Consumption service with real engagement, then I could see Twitter increasing its revenues to over $1bn per quarter giving annualised revenues of $4-5bn.
However, it is still very far from challenging YouTube or Facebook Video which is why I need to see far more than just NFL streaming and a bit of news in order to become confident that Twitter has a media consumption offering that it can monetise.
With $196m in cash flow from operations in Q4 16 and $763m for FY2016, Twitter is very far from any existential danger but I see the fair value of the company with no growth being way below where it is today.
Consequently, I see nothing in 2017 that is going to drive Twitter back to growth which will put further pressure on the share price.
I continue to see Twitter as a potential acquisition target but would expect to see the shares touch $10 before real interest is triggered.
I see no reason whatsoever to go bargain hunting as there is no bargain to be had.