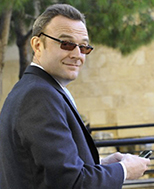 Windows 8 will get there in the end.
At its London Analyst summit Intel bemoaned the lack of cool designs for the malaise of the PC market but as usual, this less than half the story.
There are multiple reasons why the PC market is struggling of which form factor is but one.
These are:

Users have no clue what the proposition of Windows 8 is because Microsoft and the PC makers have done an awful job on marketing. To be fair, Windows 8 is a much tougher sell, but endless rounds of "if you build it they will come" clearly does not work anymore.
The devices are too expensive. Intel and Microsoft are to blame for this. Their fat margins have sucked the PC industry dry for years meaning that there is very little scope for hardware makers to cut price to spur adoption.
Windows RT has confused and put users off the proposition. (see here)
The promise of a tablet that can become a fully-fledged PC has not quite been delivered. They exist, but cramming a PC into a tablet form factor is quite tricky and what is available at the moment is ugly, clunky and expensive. Here Haswell from Intel may help make a difference and I expect this proposition to get a lot better in H2 2013.
25% of PC users are just as happy to use an iPad or smartphone instead. This loss of users combined with macroeconomic weakness has been a major factor in the weakness of the market.

To be frank, the biggest problem that the PC market currently faces is the fact that everyone knows that Windows 8 exists but no one has the first clue why they should buy it. (see here)
My biggest fear is that Microsoft does not care that much.
Apple as stopped making inroads into the PC market (in terms of share) and eventually the old clunkers will need to be upgraded.
Users will then be presented with Windows 8 by default, bringing adoption by attrition.
Once one has got to grips with Windows 8, the feedback is pretty good especially when one has a touch enabled device.
Hence, I think that Windows 8 will take off eventually even if Microsoft does nothing to fix how it educates the user.
The release of proper tablet / laptop hybrids plays directly to the strengths of Windows 8.
Hence I am hopeful the combination of Windows Blue and Haswell will breathe some life into the market in H2 2013.
ARM and Windows RT is unlikely to be factor anytime soon. (see here)
If only Microsoft and Intel could be nicer to their customers, the take-off could be even more rapid.