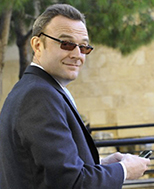 Calling in McKinsey is very unlikely to help.
Yahoo! has called in McKinsey to help it with its strategy but I fear that McKinsey will make a bad situation even worse.
Furthermore, fearing further executive losses, Marissa Mayer is thought to be asking her leadership team to sign 3 to 5 year commitments to Yahoo!.
However, this does not appear to have worked as I understand that Jeff Bonforte, the man tasked with fixing mobile, will be the next man out of the door.
This could not come at a worse time as Yahoo!'s ills are a direct result of its continued underperformance in mobile relative to its potential.
The one thing Marissa Mayer has done well is to assemble a series of assets that give Yahoo! good coverage of the Digital Life pie.
This means that for 74% of the time that users spend on their smartphones and tablets, Yahoo! has a service that can address that activity.
Yahoo! also states that it has around 600m monthly active users on mobile devices.
If I put these two together and benchmark Yahoo! against Google, then Yahoo! should have generated around $2.5bn in revenues from mobile in Q3 15A rather than a paltry $270m.
It is Yahoo!'s inability to execute on the assets that it already owns that is causing this underperformance and I suspect that there is very little that McKinsey can do to help.
This is because McKinsey will look at each of these assets on its individual merit rather than as a piece of an ecosystem.
Yahoo! underperforms because its assets are standalone and not integrated together in a seamless, easy and fun to use way.
This is what Google does so well and is why RFM forecasts that it will generate around $20bn in revenues from mobile devices in 2015.
Yahoo!'s plan appears to be to try and take on Google in search with a new product called Project Index that looks an awful lot like Google Now.
To me, this makes very little sense as search is driven by the quality of the algorithms and machine learning that sits behind the service.
Yahoo! is the weaker player in search and will find it very difficult to compete effectively with Google's vastly superior machine learning that underpins the intelligence of such services.
What would be much more interesting would be a proper integration of its assets into which it could then fold Project Index.
Then users would have an incentive to spend their Digital Lives with Yahoo! and would be more likely to use, what is likely to be, a weaker product.
Unfortunately, McKinsey is likely to recommend getting rid of some assets and investing in others which I think will lead to no recovery in Yahoo!'s fortunes.
Furthermore, I think that the best executives that Yahoo! has are more likely to leave than be tied down for 3-5 years as good executives can get good positions anywhere in Silicon Valley.
Hence, I see no turnaround of the core business and my hopes that Yahoo! will become an ecosystem and monetise to its full potential are fading fast.
The shares look set to continue their underperformance making the likes of Microsoft, Facebook, Samsung and Apple much better prospects.