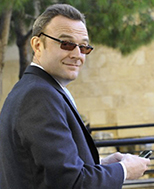 Yahoo's strategy has McKinsey written all over it.
Yahoo reported another lacklustre set of results and its strategic update gave every indication of being written by McKinsey rather than Yahoo.
Q4 15A revenues-ex TAC / ADJ-EPS were $1.0bn / $0.13 a bit better than consensus at $948m / $0.12 but still represented a 15% decline YoY.
Mobile, Video, Native and Social (Mavens) Q4 15A revenue grew strongly to $472m but this went hand in hand with a 266% increase in traffic acquisition cost (TAC) implying that Yahoo has been buying market share.
Out of this, revenue from mobile devices was $291m, up 14.6% YoY, underperforming its peers Google and Facebook both in terms of absolute levels of revenue and growth.
Furthermore, Tumblr which has often been called out as an asset that is performing well, missed its monetisation target and was part of the thumping $4.5bn goodwill write down announced.
Yahoo also announced its new strategy for 2016 which comprises:

First. Focusing on search, mail and messaging, Tumblr and the content channels of news, sports, finance and lifestyle.
This will result in the discontinuation of some Digital Life services such as games and (I think) maps.
This will reduce Yahoo's coverage of the RFM Digital Life pie from 75% to 41%.
Assets such as Flickr which just about pays its way will be continued but investments for growth will be curtailed.
Second. 5 regional offices will be closed and the workforce will be reduced by 15%.
This will result in the elimination of around 1,500 positions and with an annual saving of $400m
Most of this will be effected before the end of Q1 16, with the full effect in the operating results by Q4 16.
Third. The reverse spin (see here) of the core business into a separate vehicle will continue as planned leaving Yahoo's stake in Alibaba in the current legal entity in order to avoid potential tax liabilities.

The net result of these changes is revenue guidance well adrift of expectations.
Q1 16E revenues ex-TAC / Adj-EBITDA are expected to be $820m-$860m / $100m-$120m compared to consensus at $915m / $189m
FY 16E revenues ex-TAC / Adj-EBITDA are expected to be $3.4bn-$3.6bn / $700m-$800m compared to consensus at $3.9bn / $851m.
This is very disappointing especially given the speed with which Yahoo intends to implement the cost savings which clearly are not going to flow to the bottom line.
However, the biggest problem of all is that I think that the conjunction of McKinsey and Yahoo has led to a misunderstanding of the market Yahoo is trying to address.
Yahoo stated time and again that mobile is its future but the shuttering of games and (I think) maps has massively reduced its long-term growth potential.
This is particularly the case because games is the one segment of Digital Life that no-one has conquered on mobile.
Consequently, it is wide open and this is what I think Activision's acquisition of King Digital is all about (see here).
I think that Yahoo and McKinsey are looking at each asset or business on its own merits and not considering the bigger picture.
If Google was to think like this, then it would probably have shut YouTube and Maps which I think would kill a significant piece of its search revenue.
Google understands that the value of a portfolio of integrated services is orders of magnitude greater than a jumble of stand-alone offerings.
I have long believed that YouTube and Maps are hugely valuable assets to Google as it monetises them through search using the data that they collect.
As an ecosystem with a collection of integrated and delightful Digital Life services, Yahoo had the potential to quadruple its revenue base to around $4bn per quarter.
The strategic realignment reduces that potential to closer to $2bn per quarter and will be even harder to realise.
The cause of Yahoo's problems is simple in that it remains unable to execute on integrating its assets to create a consistent and delightful ecosystem.
To give Marissa credit, I think she had the vision of what Yahoo needed to offer but has been unable to fulfil that dream.
The end result leaves Yahoo in the hands of McKinsey which will provide some short-term benefit in terms of cost savings but leaves Yahoo going nowhere in the long-term.
Yahoo's valuation remains unchallenging as the shares are trading below the value of Yahoo's holdings in Alibaba and Yahoo Japan.
Hence the theoretical value of the core business, which is profitable and generates cash, is less than zero.
Consequently, I see significant upside when it comes to break-up of the company but at the moment this has all the hallmarks of a classic value trap.