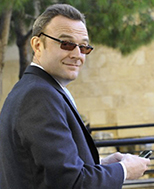 Project Titan suddenly looks more sensible. 
I think that the scaling back of Apple's ambitions to produce an electric car heralds the realisation that making a car is much more difficult than it sounds and that a vehicle was never going to work for Apple financially.
The change of guard at Project Titan earlier this year appears to have gone hand in hand with a change in strategy that has resulted in around 50 people leaving the project.
I understand that the focus is no longer to produce a vehicle but to focus on some of the underlying systems as well as autonomous driving.
I think that this means that Apple will work on two areas.

First: Infotainment.
I have long been of the opinion that an in-car infotainment system makes much more sense for Apple than to make the entire vehicle (see here).
This is because the infotainment unit is where the car will intersect with all of Apple's other products and where Apple's key strengths are by far the most relevant.
Furthermore, Apple might just be able to make 40% gross margins on the infotainment unit whereas it will be almost impossible to show this kind of profitability on brake pads, wheels, pressed aluminium and so on.
Failure to produce a product with high gross margins is likely to have very serious implications for Apple's already lowly valuation.
This why I still believe that if Apple is going to launch any hardware for the auto, it will be an infotainment unit.
The problem with this strategy is that, Apple will have to get the automakers to play along, all of whom, have become increasingly wary with regards to Apple and especially Google over the last 9 months.
Second: Autonomous driving
While this is a hotbed of investment at the moment, I struggle to see why Apple should be a leader in this field.
RFM research indicates that a successful autonomous driving offering is likely to require a combination of skills and assets.
These are: a very high quality map, many millions of miles driven and first class artificial intelligence to control the vehicle.
Combine this with the huge issues I see with the regulatory environment (see here) as well as liability (see here)and I think it will be a very long time indeed before this is in the mass market.
Furthermore, I do not see Apple as a leader in any of these skills, leaving Google way out front with Baidu leading in China.
Uber, HERE and most of the auto makers are all working on this but I suspect that it will be Google that gets there first.

Consequently, from a pragmatic standpoint, the likelihood of Project Titan reviving Apple's growth sometime in the next 5 years looks to be extremely remote which is what I suspect prompted this rethink.
This leaves the dilemma for Apple unchanged in that there is nothing on the horizon likely to restore growth in the short to medium term.
For long-term value investors, I continue to think that there is substantial value to be had in Apple shares but for the short-term I continue to prefer Microsoft, Baidu and Samsung.