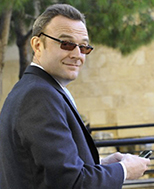 The headlines are hiding the realities of a pretty good weekend of retail sales in the US.
Purchasing online using PCs, tablets and smartphones saw very strong growth and as evidenced by the scrums in the shops, the US consumer has spent 12.8% more than he did last year.
The latest figures show that over the four day weekend 247m on line and real-life shop visits up 9.2% from 2011.
Total sales have been estimated at $59.1bn up 12.8% from 2011, a good sign for the all-important Q4 selling season.
This implies that the handset market, tablet market and Apple are set for a solid Q4.
Who knows, even the much lagging PC market and Windows 8 may see some glimmer of life before the end of the year.
The actual numbers for Friday (the big day) show a dip compared to last year, but this looks almost certain to have been a result of stores starting their promotions early on Thursday evening.
The three most important takeaways are:
 A good omen for consumer spending in Q4 despite macro related uncertainties.
 Online continues to grow as a percentage sales and smartphones have been increasingly used in store for price comparisons.
iOS continued to dominate in terms of its share of weekend thanksgiving shopping data traffic on mobile devices. iOS managed to increase its share of traffic despite being outsold 2 to 1 in terms of devices when compared to Android.
Share of mobile traffic generated as a result of Thankgiving holiday shopping in US (data source: IBM)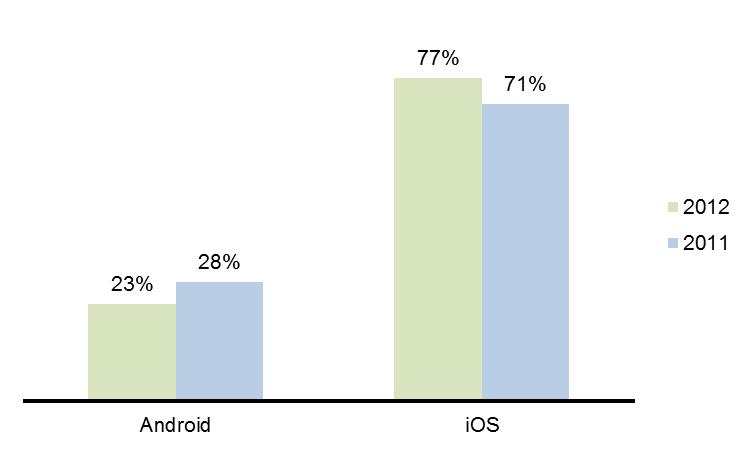 I see this as yet another nail in the coffin of loyalty to Android. (See here for others)
Android is selling like hotcakes at the moment but crucially, users are not using the devices anything like as much as iPhone and iPad users.
This sounds an awful lot like the heydays of Symbian when everyone had a Symbian device but no one used them for anything more than voice or text.
Android is not nearly as bad as that but the parallel is clear.
Hence there is a risk that when something better comes along at the right price point, users will drop Android with as little hesitation as they did with Symbian.
At the moment, the front runner to stick the knife into Android is Microsoft, but so far it has had no meaningful impact.
What is more Microsoft has been labouring for 16 years to make any real headway in mobile and so man doubt that it ever will despite its chances being the best that they have ever been. (see here for details)
It is much too early to write Android off but the signs for its ability to hang onto its dominant market position are worrying.