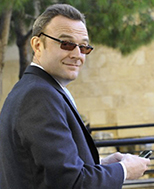 I suspect that Fairfax has no rabbit to pull out of the hat.
Close of US business is the deadline by which Fairfax must firm up its $4.7bn ($9 per share) bid to take BlackBerry private.
So far no partners have been announced and it looks very likely to that no commitment for financing has been signed.
I suspect that there are two reasons for this.

First. The valuation at which Fairfax agreed to buy BlackBerry looks way too high to anyone except a BlackBerry shareholder.
I have valued BlackBerry at $6.32 per share in the best instance (see here).
Second. Since what must have been the worst profit warning in its history (see here), there has been a systemic loss of confidence in BlackBerry as a going concern.
This basically means that most enterprise customers are now looking for alternative solutions.

Blackberry has been flying around the world looking for a buyer in the last few weeks but no one has any real interest in buying the company as a whole.
There has been interest around BlackBerry Messenger and the patent portfolio but no one seems to want the handset business.
Asian vendors looking to make a splash in the handset market like Lenovo will remember only too well the cataclysm that was BenQ's take-over of Siemens' handset business and will be extremely cautious.
Microsoft has all the assets (through Nokia and its own enterprise business) it needs to steal all of BlackBerry's existing customers and so I see no reason why it would encumber itself with an asset that can add no value to it.
Consequently at 5pm (EST) tonight, I suspect that Fairfax is going to have to admit that its bid has been all talk and no substance.
This will leave BlackBerry once again in the lurch and prey to the circling vultures looking to pick off the plumb assets.
It is Fairfax's bid that has kept BlackBerry shares from plumbing new depths and I would expect a downwards move of at least 20% in after-hours trading.
For anyone unlucky enough to be still holding stock, there is only one rational action before the close of trading today.