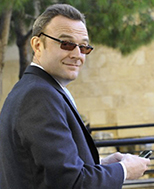 Very little interest in mobile gaming at E3.
E3 is the biggest trade show for the computer games industry but it still seems to be ignoring one of its most important segments: gaming on mobile devices.
Mobile gaming is radically different from gaming on PCs and consoles in three ways:

First: PC and console games are much more expensive and more complex.
Second: They require high-end PCs or dedicated hardware to run optimally compared to mobile games which run well on most smartphones.
Third: They are played for long periods of time whereas mobile games are played for a series of short periods.

This means that the software and hardware required to address this segment is completely different but that does not mean that there is no opportunity for the PC and console players in mobile.
This is because, I think that the hundreds of millions of users who play PC and console games also play games on their mobile phones.
These are different games, played in a different way with a different monetisation system but because the players are the same I see no reason why the big game communities should not be leveraged into mobile.
Sony, Microsoft and Valve have all spectacularly failed to leverage the multiplayer communities that they have on PCs and consoles onto mobile phones.
I believe that this is why the Digital Life segment of Gaming in mobile remains almost completely unoccupied.
This is very different to China where mobile gaming is dominated by Tencent with NetEase coming a distant second.
Hence, because Gaming is the single largest segment of Digital Life (30%), I think there is a big opportunity being left on the table.
This is the rationale for why I think Microsoft should be prepared to sell Xbox if the right offer comes along.
Someone with the ability to do with Xbox what Microsoft cannot should be willing to pay more for the asset than it is worth to Microsoft.
It is under these circumstances that I have advocated for its sale as it would generate more value for shareholders than remaining inside Microsoft (see here).
The same could be said for PlayStation but because it is such an important part of Sony, I seriously doubt that it would sell under any circumstances.
I can't say the same for Microsoft which is continuing to do very well in dominating the Digital Work ecosystem but is letting its consumer ecosystem fade away.
Activision Blizzard looked to be making move on mobile gaming with its acquisition of King Digital but unfortunately, the mobile user numbers for King Digital have fallen by around 35% since the acquisition.
Hence, I think that this segment remains wide open creating a big opportunity for someone who has the skill and determination to do in mobile what Microsoft and Sony clearly do not.