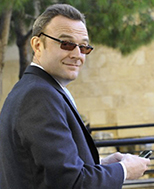 Oculus is back on the HTC Vive, but it won't save HTC.
Oculus Rift apps are once again running on the HTC Vive but I do not think that this will save the Vive or HTC as the road for its VR hardware is pointing to commoditisation.
A firmware update for the Oculus Rift prevented its apps from running on the Vive which to me made no sense as Facebook is not pursuing a hardware monetisation strategy when it comes to VR.
I think that, for Facebook, VR is about entering a new Digital Life segment (gaming) as well as being present just in case its core social networking functions become very relevant on this form factor.
Monetisation from understanding the data is the main point of this strategy with perhaps the sale of content and games being a nice extra.
Hence, as Facebook does not intend to make a high margin from selling Oculus Rift hardware, it makes sense to incentivise the spread of the platform as widely as possible.
From Facebook's perspective, HTC is not the competition.
Steam, Microsoft, Google, Meta Vision, Atheer Labs and Magic Leap are, as these are the platform owners.
Consequently, the more devices that Facebook can get running Oculus, the better chance it will have at emerging as the dominant force in VR.
This is why I believe that HTC was simply collateral damage from a software update which has now been rectified.
However, I do not think that this will save HTC's long lost profitability for two reasons:

First: I am concerned that the demand for VR units has been substantially over-estimated in the short-term.
Many of the usability issues with VR have yet to be overcome and I think that completely closing one-self from the real world will make most users very uncomfortable.
Hence, I only see it being relevant for a niche of console gamers and hard core movie fans for some time to come.
Second: RFM research indicates that HTC does not own the IP behind its Vive VR system.
Furthermore, I believe that the deal that it has signed with Steam is non-exclusive meaning that anyone can make the same product.
Hence, none of the games or the user experience will be exclusive to HTC, meaning that it could easily fall victim to the same commoditisation that has destroyed its Android handset business.

HTC competitors in VR are bigger, better financed and in many cases they also own the platform.
Should VR become really popular then every Chinese Internet and consumer electronics company is likely to jump on the band wagon and make a device indistinguishable from the Vive.
This means rapid commoditisation with 2-4% operating margins in the best instance.
This outcome is clearly way below what market is hoping for as HTC has enjoyed a substantial rally in the share price driven by VR hopes and market hype.
I continue to believe that a fair value for HTC is to be found around its net cash balance which currently stands at NT39bn.
With its market capitalisation currently at NT79bn, I think that there is substantial downside in HTC and would use the current hopes to exit.
Facebook, on the other hand, is building what could be the biggest ecosystem of them all but I think that the shares could trade lower (see here) before any of this long term upside is realised.