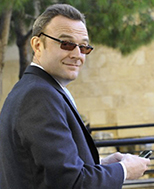 I think Bixby will struggle against Google Assistant.
Samsung has launched its offensive on the digital assistant market but I think it will still be dancing around the edge of the main act on the Galaxy s8: Google Assistant.
Samsung has announced that its new digital assistant, Bixby will be present on the Samsung Galaxy 8 with its own dedicated key on the side of the device.
Bixby promises to offer:

First, completeness: This promises to give users complete control of enabled apps rather than the few tasks offered by other assistants.
Second contextual awareness: Samsung is promising that Bixby will be aware of the context within which it has been triggered, making it more relevant and useful.
I suspect that it will do this using the hooks in Android that Google wrote to enable Google Assistant to do the same thing.
Third natural language recognition: Bixby should be able to understand complex, multi-part questions as well as prompt the user to clarify the pieces that it does not understand.

These features are very similar to those promised by Viv, the artificial intelligence company that Samsung purchased in October 2016 which is clearly the source of this product.
If Bixby can truly fulfil the promises that it is making, then it will almost certainly will be better than Google Assistant.
However, I think that this is a very big ask given that RFM research has found that AI excellence to date has been a factor of time and data volume.
Viv was founded in 2012 and has no data from commercial products while Google has been crunching data for 20 years and has orders of magnitude more data than its nearest rival.
Consequently, I think that compared to this highly ambitious billing, Bixby is going to fall very far short of the promises that it has made.
Furthermore, Samsung's delivery of Bixby is going to be hobbled by the 2014 agreement that it made with Google where it agreed not to compete in the ecosystem (see here).
This is why I suspect that Bixby has been relegated to a button on the side of the device whereas it will be Google Assistant that is sitting on the all-important home button.
As a result I think on the smartphone, Bixby will lose out to Google Assistant but on other devices it has some chance.
Samsung has a good portfolio of other electronic devices, which combined with its SmartThings offering, could allow Bixby to offer intelligent and intuitive control of other Samsung devices.
This could help Samsung to encourage greater ownership of Samsung devices across its range but again this will depend on how good Bixby really is.
Over 20% of all Google mobile searches are already done using voice meaning that many users are already conditioned to pressing the home button and asking as well as being used to Google's quality of service.
Consequently, I think that the odds are heavily stacked against Samsung having much success with Bixby but as long as it can continue to outsell Huawei by more than 2 phones to 1, the profitability of its handset business should remain intact.
I still pretty cautious on Samsung as I am not convinced that the full fall-out from the Note 7 disaster has been felt in terms of market share, which is what makes the Galaxy s8 launch so important.
I prefer Baidu, Tencent and Microsoft.