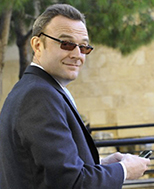 The decline may have started early.
Samsung reported very disappointing Q2 14A results but it looks like the whisper numbers and comments from the CFO last month have already taken care of the valuation impact for now.
Q2A revenues and EBIT were KRW51tn-KRW53tn / KRW7.0tn-KRW7.4tn. The median points are KRW52tn and KRW7.2tn.
This is meaningfully weaker than RFM's estimate of KRW55.4tn in sales and KRW8.9tn in operating profit.
It is also meaningfully below consensus at KRW54.5tn / KRW7.9tn.
Expectations in Korea have been quietly falling for the last month, explaining the 10% decline in the share price since early June.
Samsung highlights two big problems:
Currency.

The Korean Won has appreciated by around 5% against the dollar during Q2 and this has been blamed for a big part of the weak earnings.
However, it is important to remember that Samsung buys much of its components and pays a large part of its work force in foreign currencies.
This means that the majority of the impact will be felt in revenues not in profitability.
It is profitability where things have been really disappointing.

Smartphones and tablets.

Shipments fell QoQ as the Galaxy S5 did not go as well as expected and share was lost at the mid to low end as the Chinese ramped up competition.
RFM was forecasting a small increase QoQ.
Samsung was also forced to ramp up marketing spending to wind down the inventory ahead of new model launches in Q3.
This is a very bad sign as it looks like both share and margin suffered during Q2.
Typically, I would expect market share to be defended at the expense of margin but clearly the Chinese still do not care that much about profitability.
Samsung is hoping that new models in Q3 will boost its shipment numbers and margins but it has already launched its key product for 2014 and I can't see why the Galaxy Note 4 is going to rescue the situation.
Samsung's decision to not compete in the ecosystem (see here) means that it has nothing with which to compete against the Chinese other than hardware.
Consequently, I believe that this is the first of many quarters where Samsung bemoans the aggressiveness of its competitors.

Weakness in IT and Mobile Coms also impacted results from the Display and Systems LSI businesses but their overall impact was marginal.
Samsung is putting a brave face on it but I suspect that the coming quarters will report more of the same rather than the much hoped for recovery.
RFM continues to expect a 25% decline in group EBIT between 2013A and 2014E driven by falling margins in IT and Mobile Coms.
RFM will revise its estimates for Samsung Electronics when the full results are published on July 31st.
For now RFM continues to see significant downside in Samsung's share price and prefers Google, Microsoft and Yahoo!