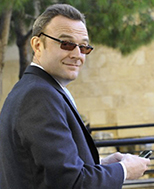 Alice needs a hardware home.
Yandex has jumped on the digital assistant bandwagon but with its history, it should be able to produce by far the best product for the Russian speaking market.
However, it will be unable to serve the majority of use cases without hardware to carry it into the home or the vehicle.
Yandex is the pre-eminent internet company is Russia with 65% market share in search and just seen off a challenge from Uber (see here) to also become the dominant provider of ride hailing.
Most importantly of all, Yandex has been crunching data for over 20 years, which according to RFM research (see here), is a major contributor to its RFM rating as No. 3 in AI behind Google and Baidu.
Consequently, a digital assistant is an obvious product to launch and is one that has a much better chance of succeeding in Russia than any of the others even if they are taught to speak Russian.
The assistant is called Alice and is the result of putting together a series of AI projects that the company has been working on for some time.
These include voice search, weather, news, maps and so on.
Two of the key features include:

First, speech recognition. Yandex claims that the assistant demonstrates near-human levels of accuracy when it comes to understanding speech.
This is no great feat in English anymore but in Russian, this is likely to put Yandex meaningfully in front.
Second, context. Alice has some short-term memory in that it remembers what the previous question was and is able to answer a follow-on question in the context of the first.
This is quite a difficult AI problem to solve and the only other player that I have seen do a decent job of this is Hound from SoundHound.
I not seen this ability in Google Assistant, Amazon Echo, Microsoft Cortana or Apple Siri.

Alice is available in the Yandex Search app on iOS and Android as well as in beta on Windows PC but this is not where it is most needed.
Usage of voice assistants predominantly occurs when the user's hands are occupied such as in the car or in the kitchen.
Consequently, to address this use case Alice needs to be resident in a home speaker of some description and, potentially, in a vehicle infotainment unit.
Yandex has stated that there will be further products forthcoming and I am pretty certain that a speaker (probably in conjunction with a known audio brand) will be shortly forthcoming.
Given Yandex's heritage in AI and its dominance in search, it looks unlikely that Amazon or Google will be able put up much of a challenge leaving the Russian speaking markets open for Yandex.
It will have more difficulty if it wants to expand overseas but Russian is a big enough market for Yandex to fare pretty well just by staying at home.