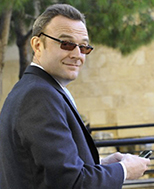 CES likely to focus on dreams rather than reality
The CES bandwagon kicks-off on 6th January and I suspect that autonomous transport, virtual reality and wearables will grab most of the attention.
I think that these themes are pretty far from the mass market meaning that the reality of the technology sector in 2016 is likely to be one of steady progress rather than revolutions and hyper-growth.
Autonomous Everything
CES is likely to see great attention being placed on the race to produce autonomous cars, drones and so on.
This will set the tone for 2016 where just as everyone rushed to create an app. store when they were all the rage, everyone is now rushing to create an autonomous driving system for all types of vehicles.
Google and Ford are likely to dominate the headlines at CES with Ford taking the very dangerous step of allowing Google fully into its vehicles.
This could allow Ford to be first to market with technology that really works but comes at the very real probability of Ford being commoditised by Google.
Just as handset makers are merely conduits for Google services, car makers run exactly the same risk by allowing Apple and Google to come in and take over what is likely to become the most important part of their vehicles in the future.
I continue to believe that being first to market with this technology will not matter because the legal and regulatory hurdles will mean that the technology is ready long before the market (see here).
Monetisation
I think that 2016 will prove to be a critical year for internet start-ups that depend on the networked economy.
The focus to date has been to grow the user base as quickly as possible and vast sums have been invested to achieve that end.
However, I think that 2016, will see growth slow and the hype that fuels valuation continue to cool markedly.
This means that the focus will have to switch from user growth towards monetisation.
Handset Crunch Time
Growth in the smartphone market is likely to slow to well below 10% in 2016, meaning that those struggling for relevance will be forced to ask themselves some very hard questions.
Most at risk are BlackBerry, Sony and HTC all of which have been struggling for some time to rediscover their place in the market.
HTC has decided to turn to virtual reality (see below) while BlackBerry has decided to try its hand in Android.
The essential problem is that almost every handset maker out there has very little to which users attach any value.
This value remains in the ecosystem where Apple, Google, Alibaba, Tencent, Baidu and Facebook remain the biggest and strongest.
Samsung is the one standout as its history as a shipper of commodity of products in huge volumes puts it in a good position to fare far better than anyone else.
Meizu is already cutting staff and I suspect that this year could see the end of both HTC and BlackBerry in the handset market.
Weary Wearables
2015 was a disappointing year for wearables where even the mighty Apple was unable to really spark the market to life.
I continue to believe that this is because no one has thought of a use for wearables that is so compelling that they become a must have.
Furthermore, I still believe that health sensing and battery life are still not good enough to ensure that the few users that do purchase a device, stick with it.
I think that 2016 will see steady progress in improving, health sensing, the user experience and battery life but without a spark of genius there will be no inflection point.
I see nothing to change my view that wearables will remain a solution looking for a problem in 2016.
Virtual and Augmented Unreality
With numerous developer kits coming to market in Q1 2016, virtual reality and augmented reality AR) are likely to be major buzzwords in the first half of the year.
However, like autonomous vehicles, I think that the limitations of the technology will keep it from the mainstream for some time.
The bulky, uncomfortable form factor combined with the limitations of AR (see here) and high costs are likely to keep both user appeal and volumes low.
For situations where there are real productivity gains in the enterprise, I can see this taking-off now but for everyone else, it is going to be a question of the waiting game.
RFM Preferences going into 2016
Thumbs up: Samsung, Microsoft, Lenovo and Facebook.
Thumbs sideways: Apple, Amazon, Huawei.
Thumbs down: Google, Twitter, Xiaomi, Yahoo, Sony